IMPORTANT NOTE
All members are requested to inform APT Secretariat of any changes in the contact details to ensure effective communication.
Training Course on Preparing for International Conferences 2019
18 - 21 March 2019, Bangkok, Thailand
The Training Course on Preparing for International Conferences (TCPIC) 2019 was held from 18 – 21 March 2019 at APT Headquarters, Bangkok, Thailand. The training course was attended by 29 trainees from 14 Member States and one Affiliate Member. There were 8 prominent experts who performed as lecturers for this training course, namely Mr. Mohamed Amir, Consultant, Maldives; Dr. Bob Horton, Consultant, Australia; Mr. Seiichi Tsugawa, KDDI Cooperation, Japan; Ms. Prewprae Chumrum, Ministry of Commerce, Thailand, Ms. Thasawan Samorwong, Ministry of Digital Economy and Society, Thailand; Mr. Hitoshi Kozaki, Embassy of Japan in Thailand; and Mr. Ashish Narayan, ITU Regional Office for Asia and the Pacific.
The objectives of this training course were to provide an opportunity especially for young generation to learn about international conferences, its structure, decision-making process, roles of chairman, and basic skills of trade negotiations and discussions etc., and to participate in actual negotiation and discussion through role play exercises, simulated international conferences so called as "Mock Conference".
This training course consisted of classroom lectures as well as role play exercises which offered all the trainees a hands-on experience to take part in discussions and negotiations, and opportunity to make a presentation in front of other trainees at the "Mock Conference".
The theme for this year's training course was "5 AI Principles". Each participant prepared his/her own idea for "5 AI Principles" before the training course. Then trainees were divided into small groups where they discussed the group's "5 AI Principles". There were regional, inter-regional and international "Mock" conferences where participants were exposed to exercise their ability for presentation, persuasion, negotiation and coordination.
Through the whole period of the training course, the trainees participated actively in the activities including actual negotiation and discussion. Finally they successfully established their own "5 AI Principles" through the role play exercise as a consensus of all the trainees.
The trainees expressed their impression about this training course. Some of their opinions are "It's a good experience in seeing how international conferences work, how things could go wrong, and what should be done to avoid that.", "In my opinion, this training is very effective for all of us as we are on the way to more collaboration, as well." and "More training should be arranged in future."
APT plans to organize this training course in the future.
<![if !vml]>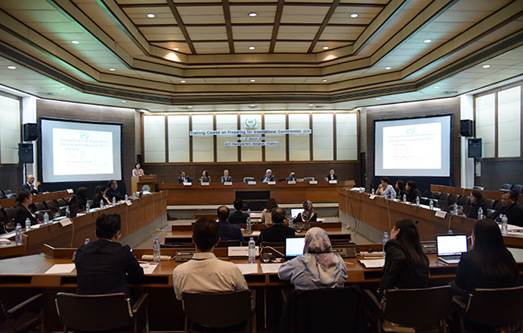 <![endif]>
<![if !vml]>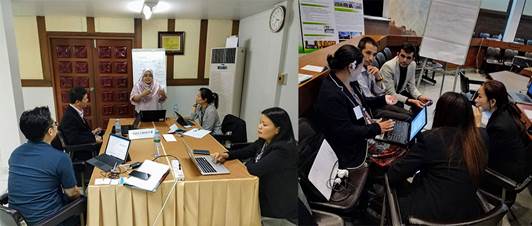 <![endif]>
<![if !vml]>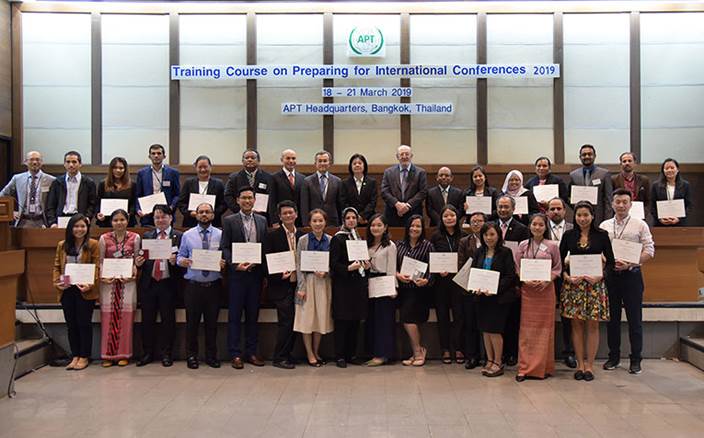 <![endif]>
Click here for more details.
<![if !vml]>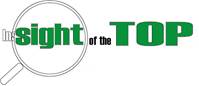 <![endif]>
Interview with Ms. Aileen Chia
Deputy Chief Executive, Policy, Regulation & Competition Development and Director General, Telecoms & Post of the Info-communications Media Development Authority (IMDA), Singapore